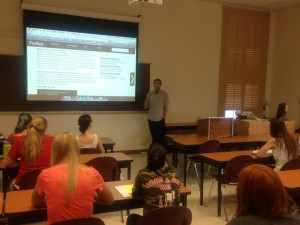 Thank you for giving Kolten your attention in class today. We can discuss his talk a little more on Mon.
For tomorrow, you have an online assignment on the course outline. Watch the Remix Manifesto video and read about Video Games. If you haven't done the readings on Music, make sure you have done so.
Online Assignment – Do a blog post discussing the video and your opinion on some of the issues it raises. Do this post on Friday, as it is your online assignment for this day.
We will finish up with that and move on to Online Journalism on Monday. Read Chapter 9 in the book for Mon.
We will also spend a few moments catching up with the Business Models and Personal Brand readings on Monday.
Keep up the news posts and comments. Juliette and Carlie tonight, Morgan S. and Morgan R tomorrow.
Work on your blog posts for the final section of the class. Photo slideshow and video are 2 of them. We will talk about Storify a little more next week.
Just a week and a bit more to go with this session. Have a nice weekend.
Cindy