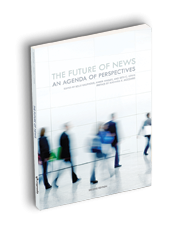 We're in the home stretch. The final exam is next Tues. I moved your due date for finishing your required blog posts on your topic to next Wed.
Here's what's going on:
Read Chapters 10 and 11 for tomorrow. Also, there is a link "Analyzing Data is the future…" and an article on TRACS under Resources royal_future.pdf (it's a chapter I wrote in the book pictured above). We'll discuss. Please read so you can contribute.
That will finish up the book. The final will cover 7-11, but there may be a few questions from the first part of the session.
We will finish talking about data-driven journalism tomorrow and pick up with the future of news.
Keep up the good work on news discussions on Facebook. Original news posters, make sure you are also posting on Twitter with #fdom hashtag.