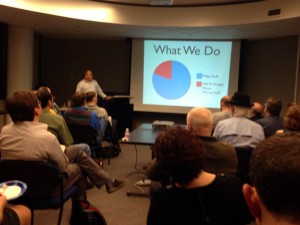 Now that you have had time to work on a digital portfolio (and plan to continue after this class), you should think about ways you can network. This is an important step in a career hunt, and it's something you should start well ahead of actually needing a job. Going to meetups with professionals may seem intimidating, but it doesn't have to be. The Austin area has many meetup, and you can try out several. Find ones where you feel interested and comfortable.
I also advise students to attend at least one meetup that stretches your skills, something you know nothing about. You have the most potential to learn when you are the least knowledgeable in the room. People are nice, and they like to meet students and recent grads.
Meetups are as much about what you bring to the community as what the community can do for you. It's a two-way street. So, find groups that interest you enough to regularly attend and contribute. Eventually, you might even get asked to be a speaker. Who knows… you might even decide to host your own meetup group someday!
A good first step is to take Mass Comm Week seriously this fall. Don't just attend the events that you have to (required for a class). We bring in multiple professionals and provide opportunities for students to meet with them. This event has grown to one of the most premier conferences in the region. This year, it will be held Oct. 21-24, and the schedule should be available soon after the fall semester begins at txstatemcweek.com.
There are a couple of calendars that list meetups in town. Check with the actual meetup group to make sure they still meet at the same time/place indicated.
Here are a few that I have attended:
Here are some others that may interest you:
There are plenty of student orgs in addition to the student Social Media Club, like Society of Professional Journalists and Public Relations Student Society of America. Check around campus for different opportunities.
Of course, if you can attend SXSW Interactive in March, that is an awesome opportunity to learn and meet new people. Another great conference in the area is the International Symposium in Online Journalism, held in the spring at UT.
There are also great meetups to attend out of town (NICAR, Online News Association, etc), but I have focused on those that are in the area.
I'm sure there are lots more. Get out there, finds groups that interest you, start talking to people and grow your professional network!